To investigate reported cases of commission of acts of sexual harassment of women, if any, and submit its report to the disciplinary authority recommending action to be taken against the accused employees.
To make an annual report to The Joint Director, "Directorate of Women and Child Development", Himachal Pradesh, about the complaints on sexual harassment of women at workplace and action taken for redressal of complaints.
To hold regular quarterly meetings even if there are no complaints.
To review the state of preparedness to deal with complaints and to make all officers fully aware of their responsibilities in this regard.
To organize various functions acquainting the women regarding their rights.
Your discrimination complaint must reach within 15 days from the date of incident contain the following:
Your name, address, and telephone number;
A short description of the events that you believe were discriminatory (for example, you were terminated, demoted, harassed);
Why you believe you were discriminated against (for example, because of your race, color, religion, sex (including pregnancy), national origin, age (40 or older), disability, genetic information or retaliation);
A short description of any injury you suffered; and
Your signature (or your lawyer's signature).
Awarness camp on Women Rights at UHF
Dr Parvinder Kaushal addressing Women's Day function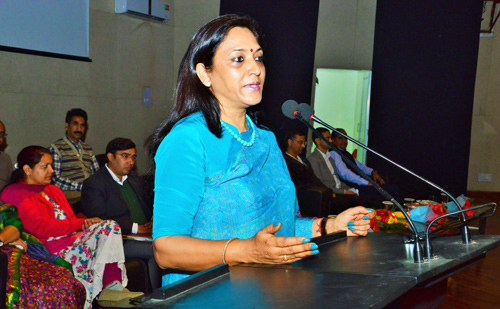 Dr Daisy Thakur, Chairperson State Women Commission addressing the awarness camp on Women Rights at UHF